Lifting and leveling of sagging concrete slab with injected polyurethane
Injected polyurethane is made from more than 40% recycled material, there is currently no other polyurethane material on the market that offers this type of carbon reduction!
Our polyurethane is manufactured by a team of environmentally friendly chemists, it is double-component polyurethane foam and specially designed for leveling and stabilizing concrete. Our patented materials are made from recycled components, making our "greenest" polyurethane foam on the market.
Stabilization of concrete slabs / filling of voids under slabs.

We use a one component polyurethane developed to bind and stabilize loose soil.
The amount of material needed to stabilize an area will depend on the moisture in the soil. When the grout is pumped into the soil, it reacts with the moisture and expands to fill the voids and form a waterproof barrier.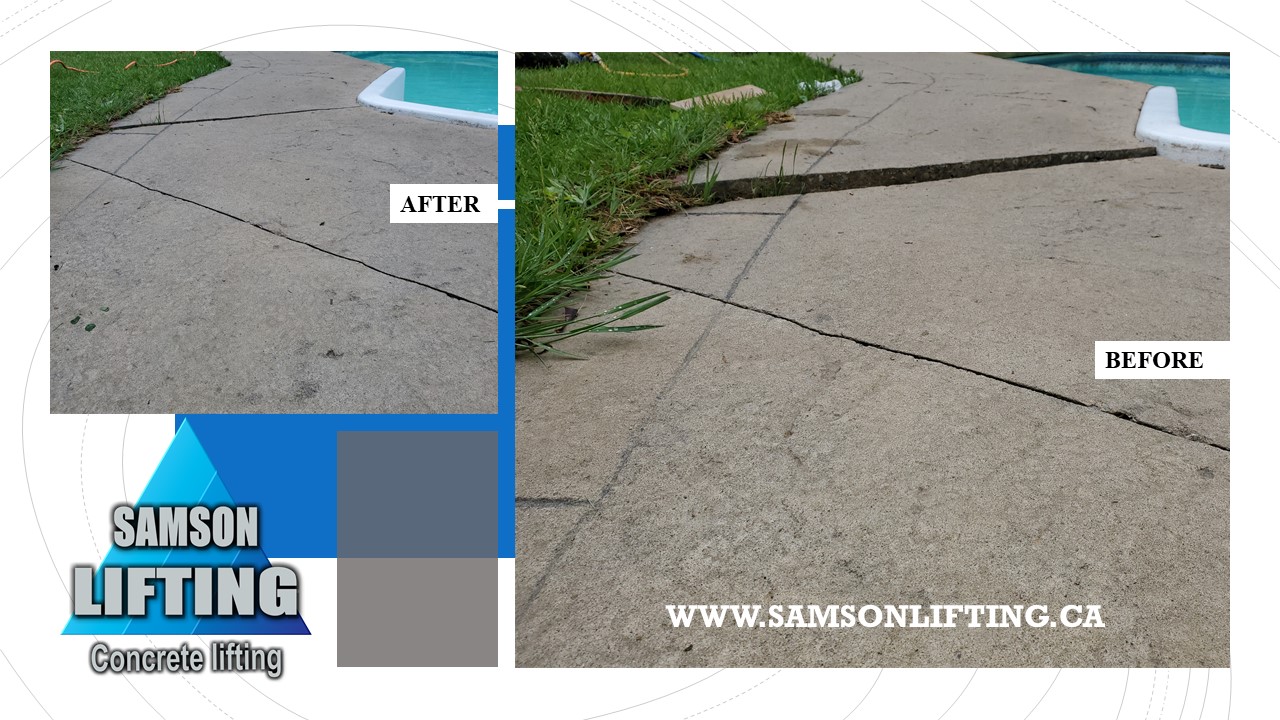 Pool surround
Pool surrounds can sag due to erosion over time, poor compaction or animals that have made nests under your concrete slabs.
It is important to check if there is a void to fill or slabs to lift around your pool before changing your pool cover. This will save you unexpected repair costs due to a torn liner.
We fill in the voids under your concrete sidewalk while lifting the sagging slabs so that you can preserve your sidewalk for many years to come.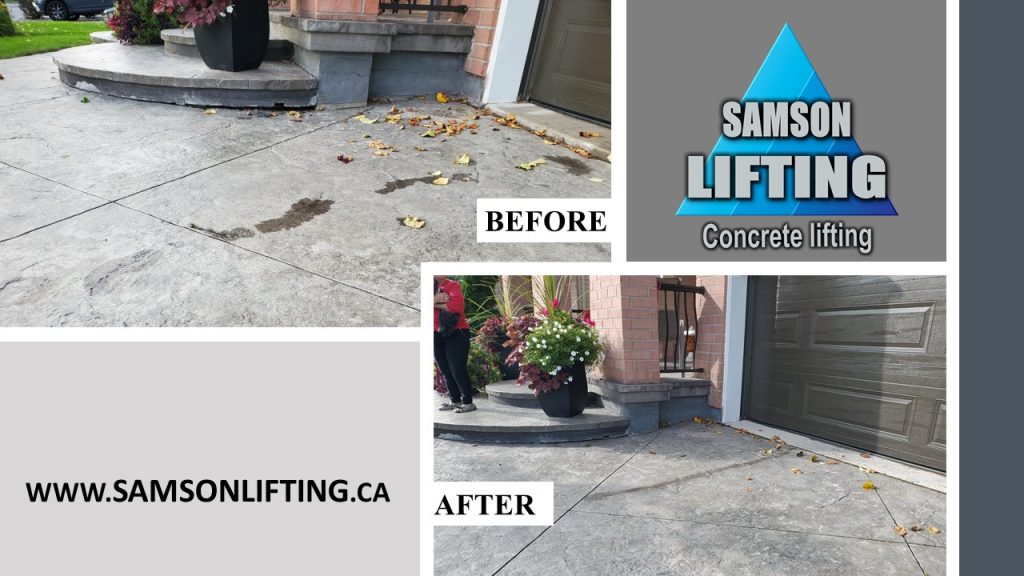 Parking lot and driveway
A concrete parking lot can last up to 30 years, if properly prepared.
Even so, the concrete can still sag for various reasons, such as dryness of the ground.
The polyurethane injection solution is the fastest and most economical solution to your problem. Whether it is to level, straighten or stabilize the slab, Béton Samson has the expertise to do the job.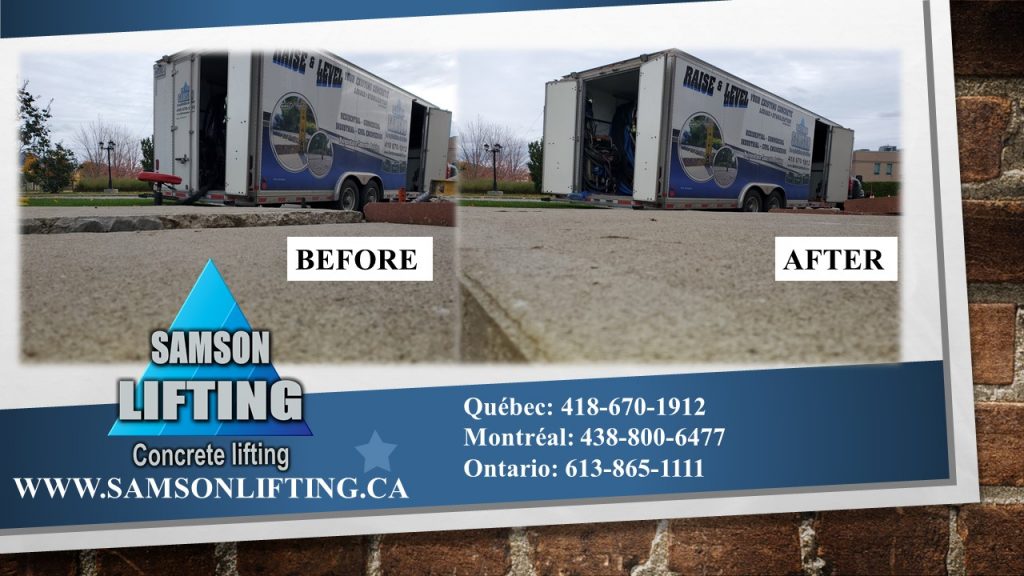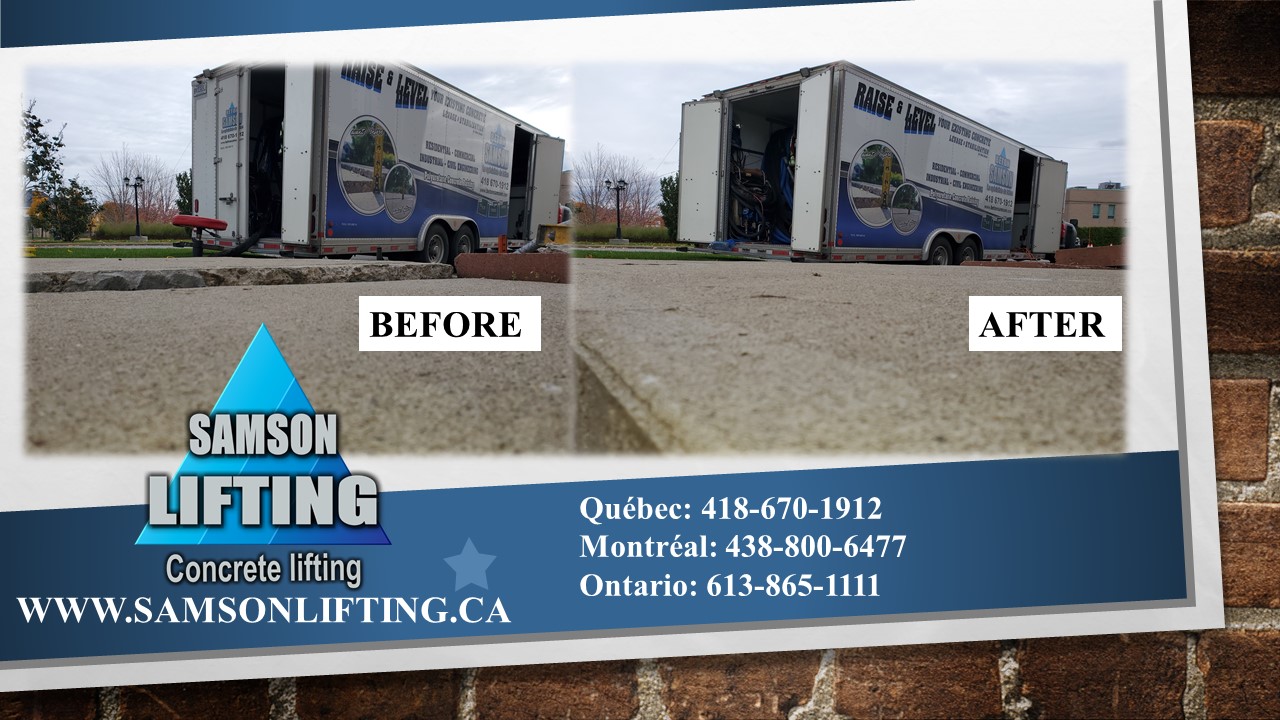 Concrete sidewalks

The concrete sidewalks of your home or condo are the first thing buyers see when they arrive.
By injecting your sidewalk, you can help enhance the value and aesthetics of your property while saving on reconstruction costs.
The sidewalks of your condo must be well maintained and safe for residents, but also for visitors. A visitor can easily be injured by a collapsed sidewalk.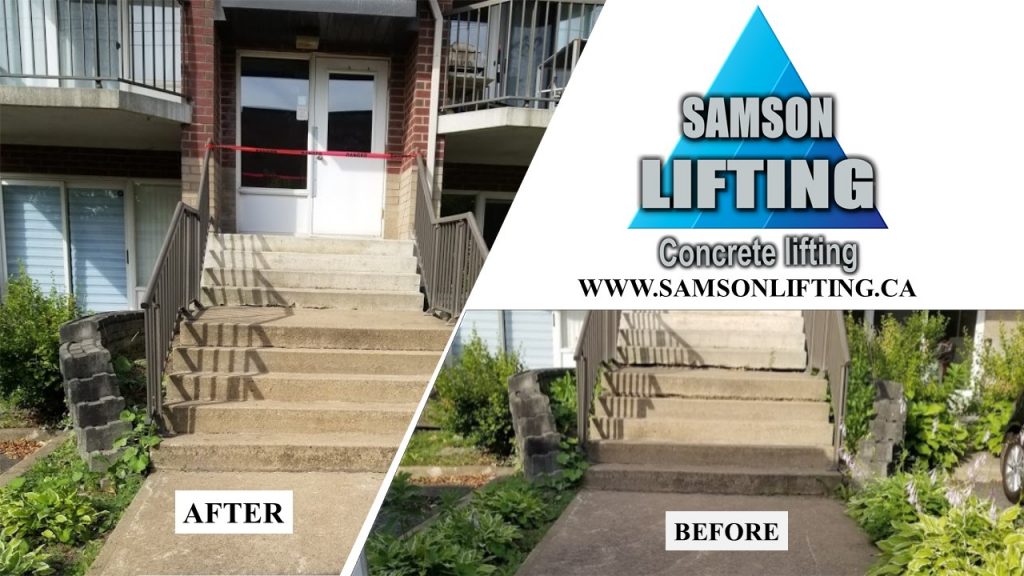 Collapsed concrete step

The height of the concrete step should not exceed 8 inches, as there is more risk of injury.
Cast-in-place concrete steps can collapse due to their weight on the ground.
We offer the service of straightening and lifting cast-in-place concrete steps without restricting access to your steps.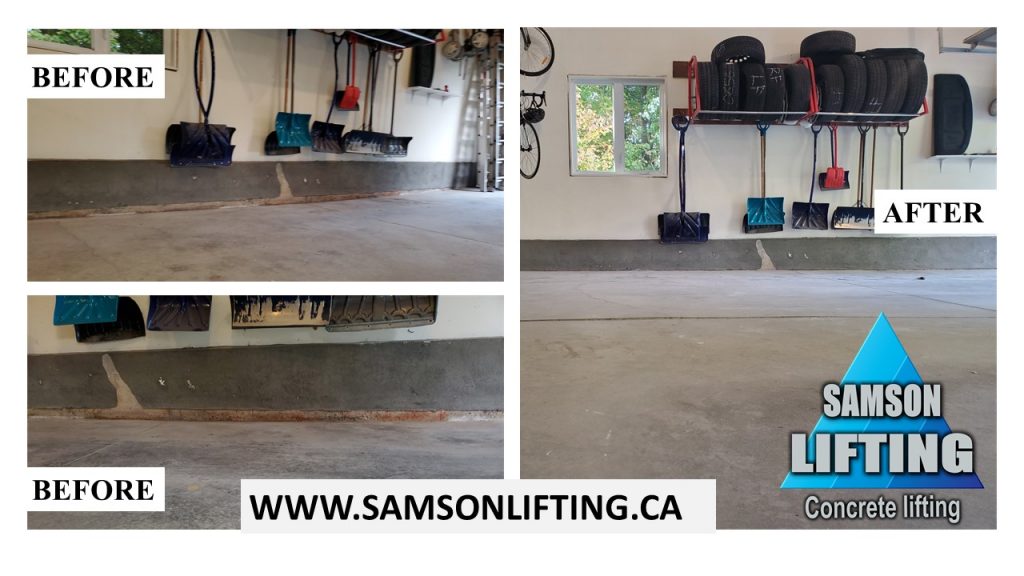 Sagging garage slab

Has your garage slab collapsed due to poor soil compaction?
We can lift the slab to restore its original level. When the concrete slab is heated with a radiant heater, we do the work in collaboration with the scans technicians who detect the pipes and electrical wires in the slab.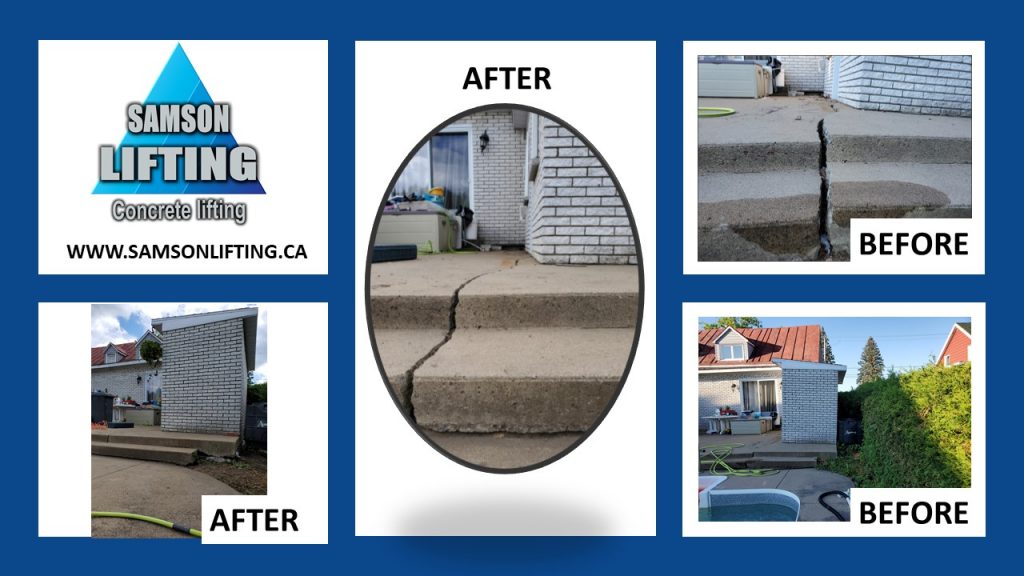 Sagging sheds slab

Is your shed slab sagging due to the weight of your pool equipment?
We can raise your shed with your equipment in place, no need to remove everything to raise your concrete slab.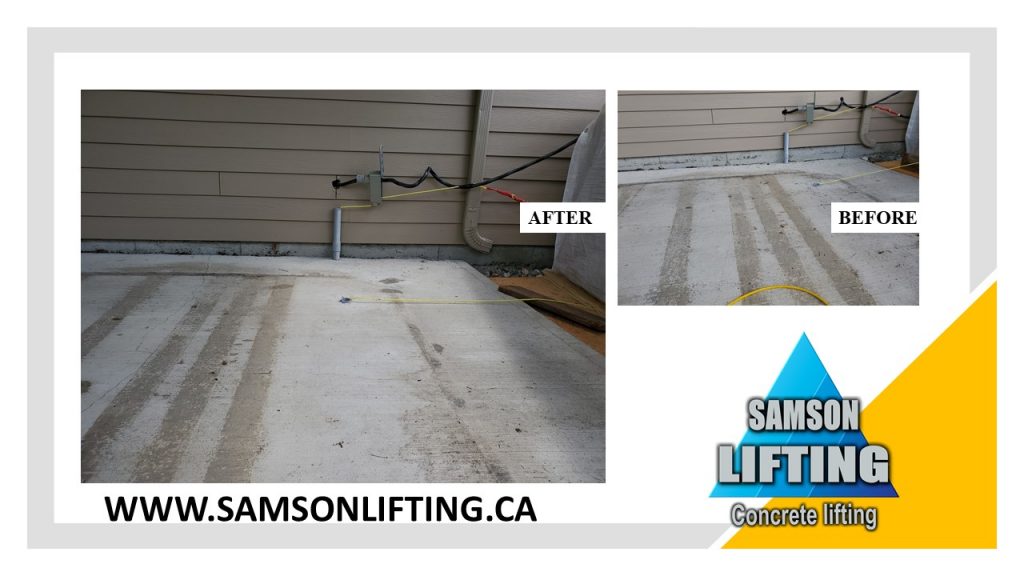 Sagging spa slab

Your concrete slab has been converted into a spa slab?
Following the addition of the weight of the spa and the water, you have noticed a sagging of the slab and your electrical wires are now under tension?
We can raise your slab in less than a day. Don't waste your time rebuilding your slab. Get your spa back up and running the next day.
Advantages of polyurethane resin injection

Affordable (Permanent solution)
Fast acting (The polymer expands and reaches its final strength very quickly)
Non-invasive
Environmentally friendly (Material does not react with soil and does not release harmful chemicals)
Strong and lightweight
Waterproof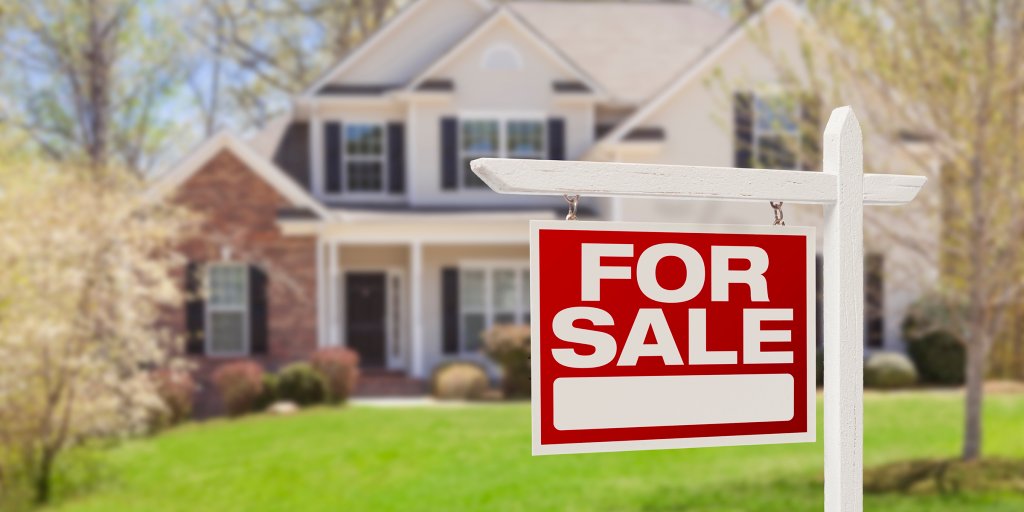 Real estate agent
(inspection problem)
Are you a real estate agent? Here's how to save your client time and money.
Problem: You have a property for sale and several buyers have noticed the sagging sidewalk?
The seller doesn't want to invest, but the inspector also noted it in his report as a negative point. Looking for a quick and inexpensive solution for your client?
Solution:
Have you ever heard of "slab jacking" or lifting a sagging concrete slab?
This solution is fast (work in less than 1 day) and less expensive (up to 65%) than total rehabilitation. No loss of time and investment.
Concrete Upgrade Applications

A common solution to concrete repair is to demolish and replace the entire slab or sections that are damaged. Samson Concrete's polyurethane resin injection method is a quick and much less expensive alternative.
Béton Samson can apply the technique of lifting collapsed concrete for different needs such as
Concrete sidewalks
Basement floors
Concrete driveways
Foundation footings
Concrete patios
Garage and shed
Pool surrounds
Warehouse floors
Etc.