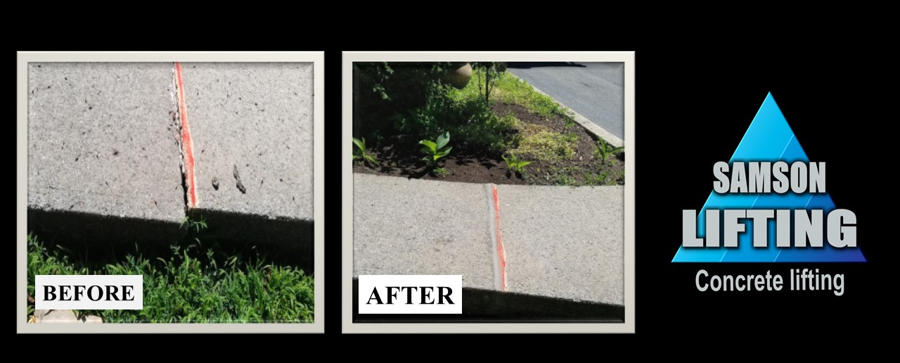 We serve the entire province of Quebec and Ontario.
Contact us: 613-865-1111 or 438-800-6477
Samson concrete lifting - Your specialist in concrete repair
Béton Samson is a company specialized in concrete repair, concrete crack repair and foundations, concrete slab repair and Concrete lifting or any other need in concrete. If you need us for small or large construction, repair, maintenance or other concrete work, the company will be able to carry out all your work. Béton Samson provides his services in the residential, industrial and commercial fields, in civil and agricultural engineering.
We offer our services for new or existing constructions, from cement pouring for your foundation or driveway to concrete maintenance and repair work, the company will meet your expectations. The company is also able to repair cracks in your basement.
Crack in your home foundation are carried out using state-of-the-art techniques. Application of epoxy to the crack, Injection of high pressure or low pressure crack into the crack using polyurethane or epoxy into the crack and injection of cementitious grout into the crack.
The company also has extensive experience in concrete repair along the banks of watercourses. Samson concrete lifting works in collaboration with the environment and all their concrete products comply with the Ministry of Transport code.
Samson lifting uses superior quality products in order to offer its customers a quality work that is made to last. Whatever the work done, the team will meet your expectations.
Our company has been established since 2009 and it is a pleasure for us to serve you year after year. Our mission is to satisfy you with all our experience and professionalism. We carry out all your projects. Our company has several levels of expertise in several concrete fields such as:
We use the best products on the market to meet your highest expectations!
Advantages of Samson lifting
Repair of cracks in the concrete of your foundation or foundation even during water infiltration
Injection at high or low pressure with the appropriate product to properly seal the crack
Professional work and warranty is done conscientiously
Emergency crack service 24 hours a day, 7 days a week, all year round
The company offers its services in the greater Quebec City area,
Centre du Québec, Montreal, Montérégie, Beaumont, Ste-Foy, Dosquet, Lyster, St-Apollinaire, Plessisville, Victoriaville, Trois-Rivières, Thetford Mines, Lévis, Ste-Croix, Laurier-Station, St-Anselme, Inverness, Gentilly, Nicolet, Bécancour, St-Henri, Montmagny, Saint-Julie, Saint-Hyacinthe, Beloeil, Saint-Jean-sur-Richelieu, Longueuil, Saint-Jérome, Chambly, Richelieu, Chateauguay, Laval, Lavaltrie, Sorel, Bromont, Magog, Granby, Sherbrooke, Gatineau, Hull and many other nearby cities.
Ontario: Lancaster, South glengarry, north glengarry, Alexandria, green valley, Maxville, Vankleek hill, St-bernardin, Hawkesbury, St-albert, Casselman, Limoges, Cornwall, Ingleside, Morrisburg, Chesterville, Embrun, Orleans, Nepean, Kanata, Kemptville, Spencerville, Brockville, Kinsgton, Clarence-Rockland, Summerstown, Williamstown, Laggan, L'orignal, Dungevan, Martintown, Avonmore, St-andrews, Cumberland, Gloucester, Winchester, Dunrobin,Etc.  South Glengarry,Alexandria,Vankleek Hill,Hawkesbury,Nepean,Embrun,Limoges,Russell,Kemptville,Hanesville,Morrisburg,Upper Canada Village, Ingleside, Lunenburg,Cornwall, St Andrews, Martintown, Apple Hill, Williamstown, summerstown, North Lancaster, Lancaster, North Glengarry, Ottawa and in several other regions.,
For a job well done, trust an experienced team that is committed to customer satisfaction. All of Samson Concrete lifting's customers have been satisfied with the products and services provided to them to date.
Member in good standing CCQ & RBQ and offering a warranty on most of the work performe